Hanoi's 2016 "Reading Culture Ambassadors", a contest for students of primary and secondary schools in Hanoi which was held by the Hanoi's Department of Information and Communication, Department of Education and Training and the Vietnam Intellectual Cooperation Centre (VICC), was successful implemented and wrapped up in mid-October, 2016.
This is the first contest ever held in Hanoi as well as in Vietnam that seeks and awards the title of "Reading Culture Ambassadors" to children. From Hanoi, this contest will be spreading all over the country to help educating, building and nurturing the love for books among children in Vietnam's rapid integration era.
From its launch on June 1st to the closing date of September 15th, over 10.000 students in Hanoi had joined the contest. Local Departments of Education and Training had made great effort to implement the contest at grassroots level, submitting the papers on time and many had successfully sent excellent contestants to the final round such as the Department of Education and Training in the District of Hoang Kiem, Hoang Mai, Bac Tu Liem, Nam Tu Liem, Phu Xuyen, Thanh Oai, Son Tay… This positive respond shows us the great fondness for books of young readers – the future generation of Vietnam. During the first round of the competition, 1219 submissions were received, in which 858 were written in Vietnamese and 361 were written in English. However there were 200 invalid submissions due to miss of deadline. After evaluating, judges had chosen 40 submissions in Vietnamese and 9 submissions in English to the final round.
Image 1: The newly-awarded Reading Culture Ambassadors on stage
In the final round, 20 submissions in Vietnamese and 5 submission in English were chosen to be qualified for the award. All submissions in the final round showed excellence in idea, books choice, writing technique and creativity. They indicated the children's true passion for books and dedication to the contest.
The two most excellent contestants were finally presented with the title "Representative Reading Culture Ambassador"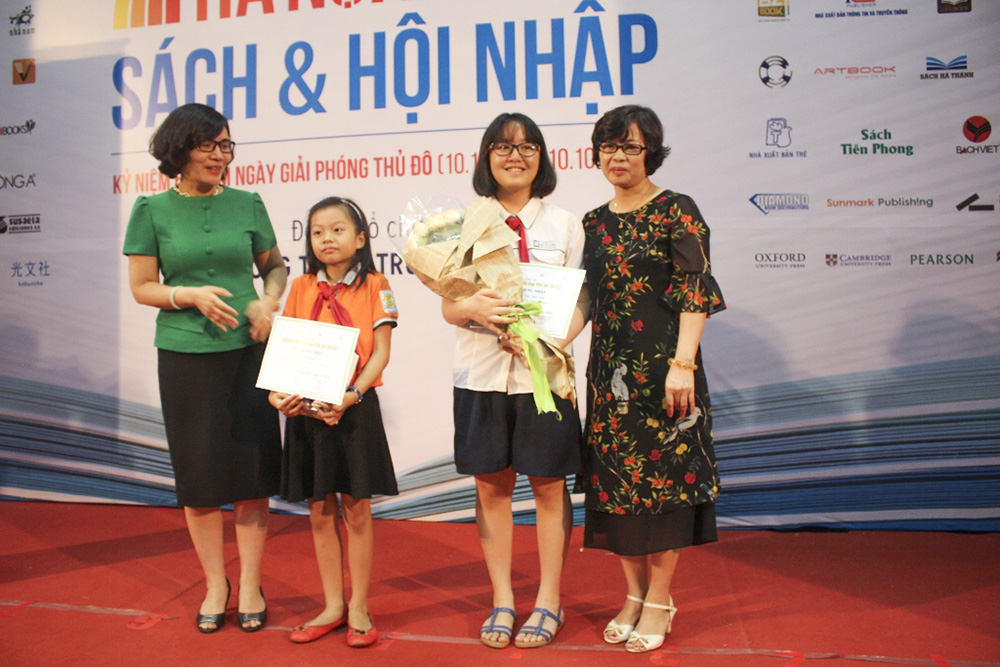 Image 2. Two Representative Reading Culture Ambassadors
The judges were extremely surprised by the maturity of writing style, the profundity of thought and the purity of feelings that emerged from the children's summissions.
Le Ha Thanh (14 years old, Phu Xuyen) did an impressive handcrafted 3D pop-up model, conveying her thought on the novel "White Fang" of Jack London. Passionate about books and fervent in learning, she had beautifully made the pride about her book-loving family and the enthusiasm into her product.
Nguyen Van Thuy Linh (14 years old, Hoan Kiem) chose another way to express the feeling about her most favorite book. In the first page of her submission about the history novel "Ho Quy Ly" of Nguyen Xuan Khanh, she drew a picture of character Ho Nguyen Trung leaning against a tree, staring into space. This book had nurtured the love for Vietnamese history in her, helped her understand more about Hanoi and made her want to spread the love of reading to everyone.
One of the youngest contestants joined the competition is Nguyen Canh Thang (9 years old, Bac Tu Liem). Compare to his friends of the same age, Thang is more matured with the writing about "The 7 habits of happy kids" of Sean Covey. He also proposed a very interesting idea of cooperating with the head of residential areas to help building reading habit for families in the neighborhood.
Nguyen Nhu Tien Hung (14 years old, Hoan Kiem) impressed the organizers with his knowledge and passion for science, Tran Phuong Thao (9 years old, Bac Tu Liem) showed her strong emotion toward "Diary of a cricket" of To Hoai by drawing many lively illustrations, while Ta Nu Quynh Trang (14 years old, Hoang Mai) wrote a letter to her friend about the book "Give me a ticket to childhood" of Nguyen Nhat Anh, which she denoted as "the most meaningful friend" of hers in the last few years.
In the English part of the competition, Cao My Duyen (student at class 5A – Ly Thai To Primary School, Cau Giay) desired to follow Nguyen Quang Thach to spread the love of books to the society, Tran Mai Phuong (student at class 8A5, Le Loi Secondary School, Ha Dong) wrote that the book "Nobody's boy" made her understand her family better, Nguyen Hoang Nghia (student at class 9H, Xuan Dinh Secondary School, Bac Tu Liem) showed his passion for Nick Vujicic's "Life without Limits" in a submission that was very creative, attractively illustrated and written in very fine English.
Other contestants in the final round like Le Ngoc Han, Do Thi Vui, Vu Bich Ha, Nguyen Quang Linh, Tang Minh Khanh, Trương Thu Phương, Hoang Pham Hai Anh, Nguyen Thi Anh Duong, Nguyen Tra My, Khuc Minh Ha, Nguyen Khanh Linh, Nguyen Ngoc Dan Linh, Do Hung Nam, Vo Minh Hanh, Dieu Gia Linh… all had impressive submissions about all kinds of book that meant a lot for them and about creative ideas to advance reading habit in their community.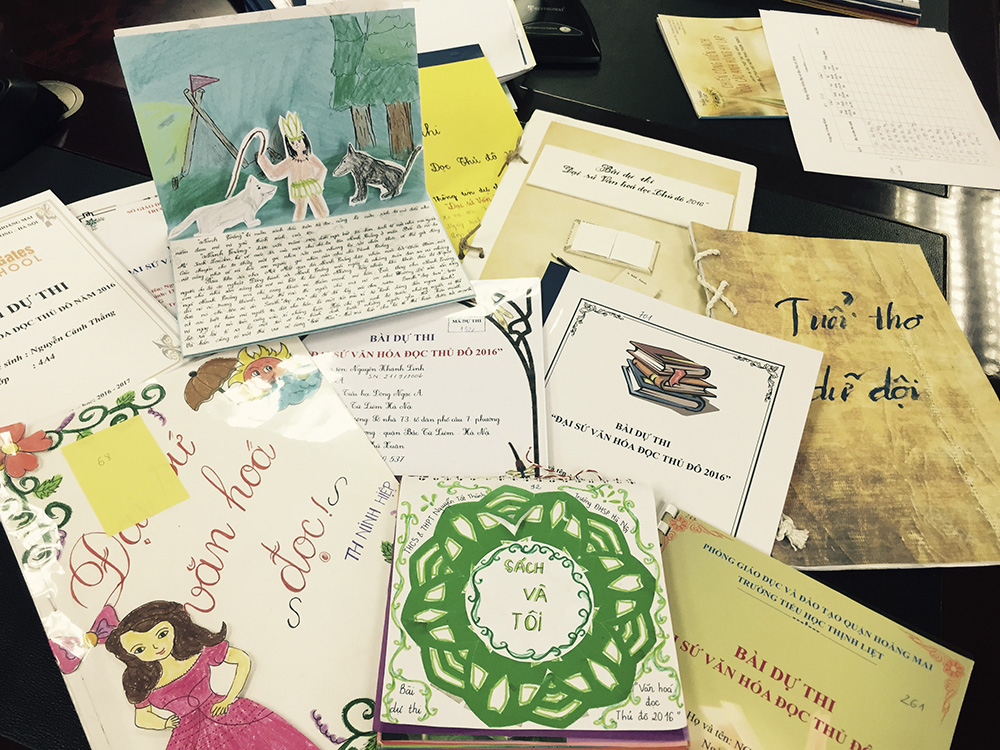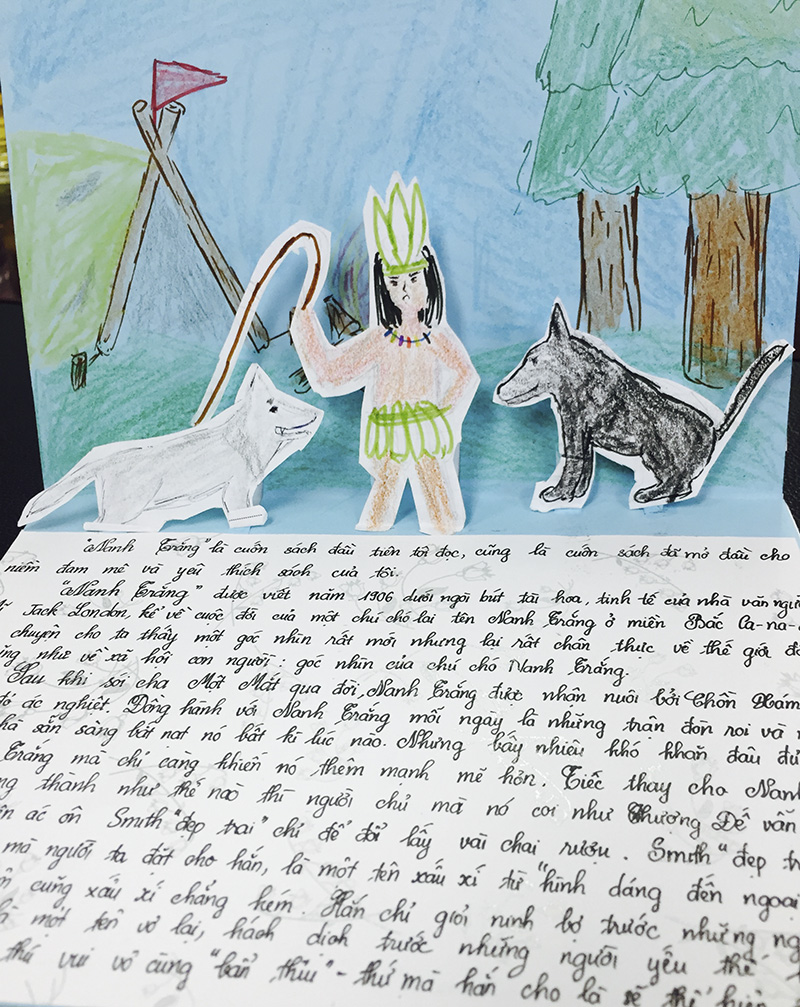 Image 3. Many submissions were illustrated delicately
The sincerity and emotion lying in all the submissions made the organizers strongly believe that books are and will always be close friends of these young readers. Because of the success in the first time the contest was held, we have become more confident about the goals and significance of the contest. The competition will be organized next year and expected to be expanding to other provinces.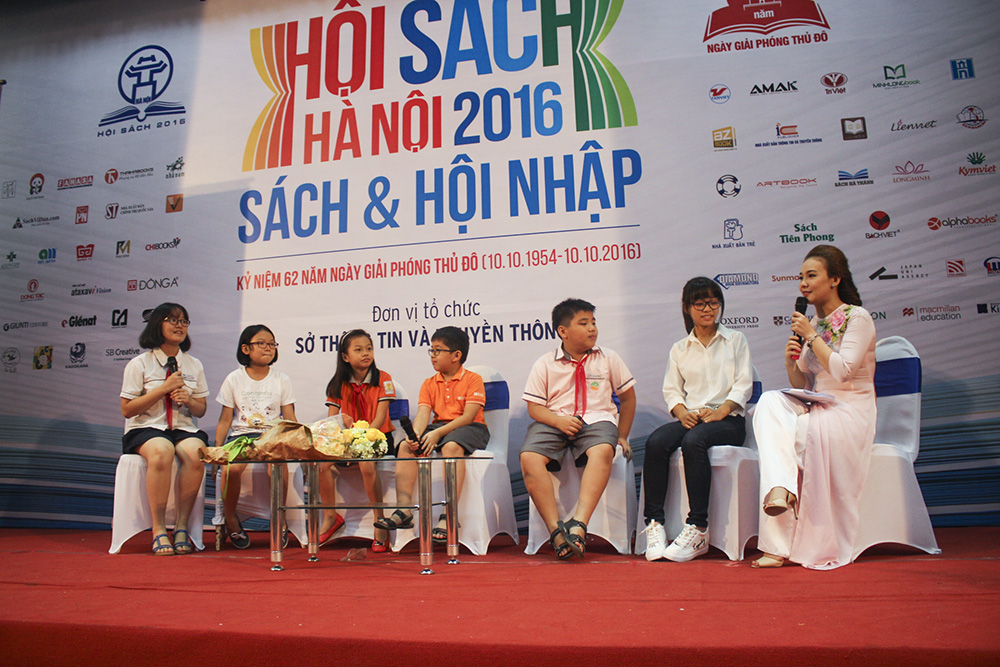 Image 4. Ambassadors share feeling and experience
However, this is the first year the competition was held so there were still some inevitable limitations. The test included 2 compulsory parts but many contestants did not know how to arrange the parts logically. There were many submissions that put a lot of effort on the first part with carefully prepared content, lively illustrations but did not pay much attention to the second part or vice versa. There were also many submissions which did not comply with the contest's requirements. Contestants were asked to express how much the books they loved had changed them or what they could learn from those, however it was such a pity that many submissions digressed from the subject matter by focusing on analyzing or introducing the books.
The contest "Reading Culture Embassadors" will continue to be held in Hanoi in 2017 and hopefully in the following years. The contest will be developed to become a proud title of young Hanoians. Besides, the competition will be expanded to other provinces to popularize the title Reading Culture Ambassadors in different regions of the country. with useful activities in order to help prove that passion for reading books will bring people closer and work together to find, share knowledge, maturity and success in life.